STATIONARY HANDLING SYSTEMS
Simplify processes.
Stationary handling systems
Automating processes. Enhancing efficiency.
With technological leadership comes expertise that extends far beyond precision winding. We keep an eye on our customers' upstream and downstream processes and design functional solutions that bring added efficiency to production and handling.
Automated package handling and transport systems make possible the fully automatic changeover of full and empty bobbins on your winders. Depending on the requirement and production situation, our systems are adapted individually to your manufacturing process. For example, we can transport full bobbins and empty cores to the next point of exchange and support your downstream processes.
Whether for 20 kg or 500 kg bobbins, we have the right solution for you.
TWINSTAR II
in combination with an automatic bobbin handling and transport system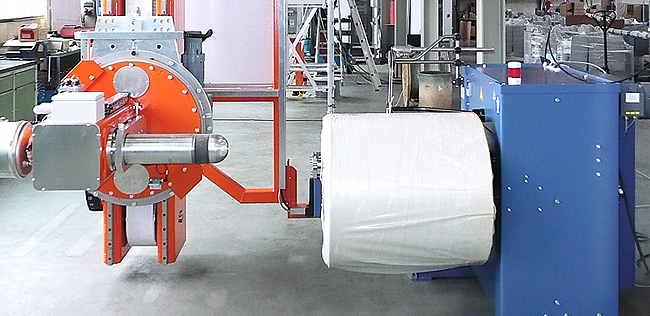 PAN Precursor Winder
in combination with an automatic bobbin handling and transport system