Automatic Precision Cross Winders
TWINSTAR II Series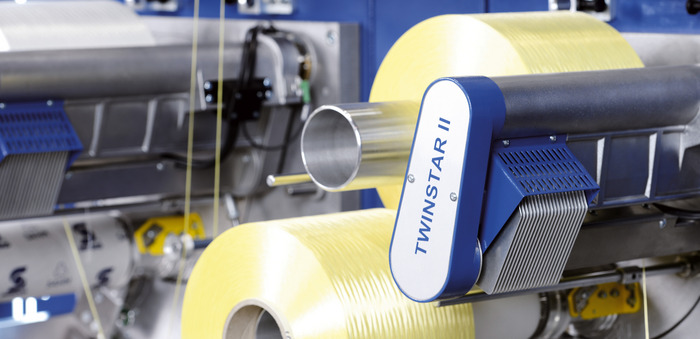 Flexible for multiple applications
TWINSTAR II is the flexible solution for all your winding needs. The state-of-the-art system lets you handle a wide range of winding materials and provides perfect winding performance for a broad array of yarn counts, package sizes and shapes.
The TWINSTAR II technology is designed to work seamlessly with cylindrical tubes made of many different materials, including paper, aluminium and steel.
APPLICATIONS
High performance fibers
Multifilaments
Tapes and monofilaments
Coated and twisted yarns
Hollow fibers
Hybrid materials
Others on request
Top performance in diverse use scenarios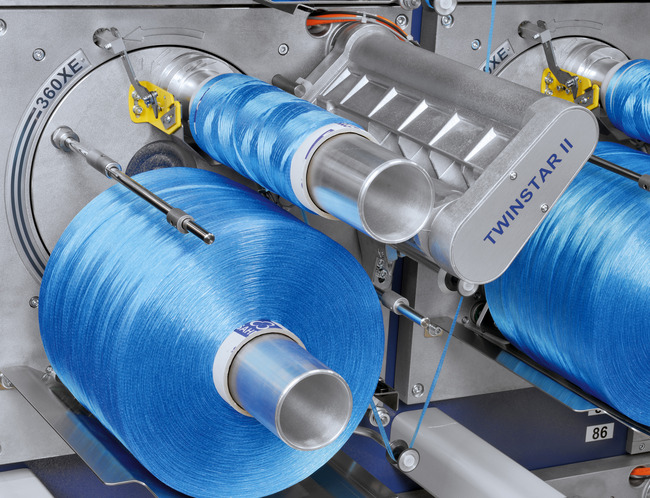 Continuous yarn production/treatment processes.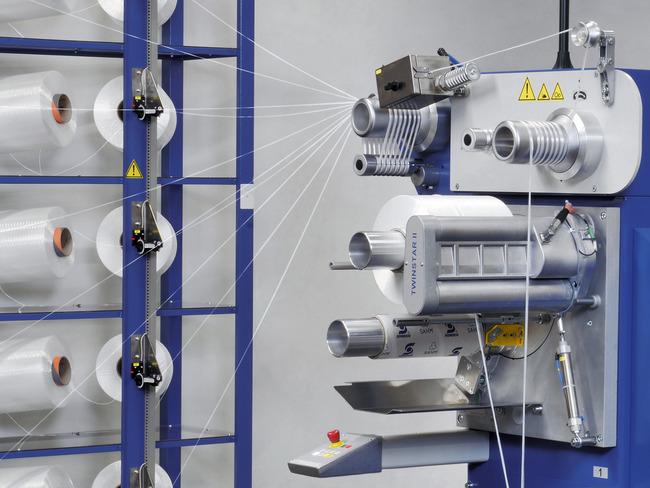 Continuous/discontinuous rewinding of one or several assembled yarn ends from creel-loaded supply bobbins with/without intermingling or rewinding from a driven spindle.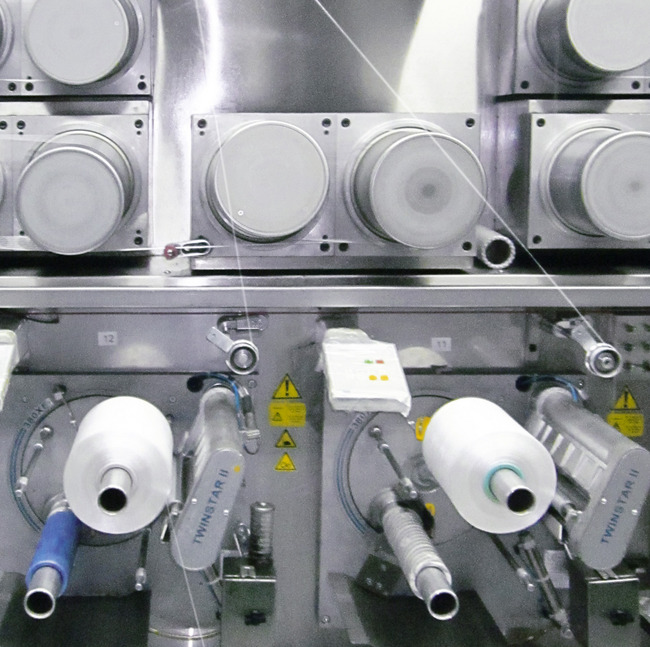 As Direct Spinning Winder
Implementation of winding positions into spinning plants for speeds up to 3,000 m/min. Also as a retrofit solution: replacement of manual winders in existing spinning plants.
Top performance for multiple parameters
MAIN TECHNICAL PARAMETERS

| | |
| --- | --- |
| Winding speed | Up to 3,000 m/min |
| Yarn count range | 30 to 20,000 dtex* |
| Traverse lengths | 190.5, 200, 250, 260, 300, 305 mm* |
| Option: Changeable mechanical double traverse lengths | 190.5 and 260 mm / 190.5 and 250 mm* |
| Tube inside diameter | 50, 69, 73, 75, 76.2, 82.55, 90, 94 mm* |
| Package diameter | Max. 320 mm* |
| Package weight | Max. 20 kg* |
| Yarn tension | 30 to 1,200 cN* |
| Frame | 1-tier, 2-tier, 3-tier - single frames and group frames; winding units without frame for implementation in customer's frame design |
Combination of all maximum values is not possible. * Others on request
Standard Features

HMI (Human Machine Interface)
Electronically controlled winding ratio
Automatic and waste-free bobbin changeover on reaching
one of the following criteria:
yarn length, winding time, package weight, package diameter,
periodic cycle or external signal
Bobbin push-off device with parking position
Pneumatic mandrel
Alarm management and alarm history
Yarn reserve

Options

Double cam
Easy Storage Doffer (ESD)
Flexible Traverse
Pull roll (godet)
Intermingling
Quality sensor
Diameter monitoring/control
Winding head change connector – ECC
Yarn cutter
Customized yarn guide assemblies
Lifting loader
Interface
Smart View
Remote support
Winding direction
Yarn suction device
Automation

Please see also "Design your own TWINSTAR II" below.
Compact and modular design - Peak performance with minimum space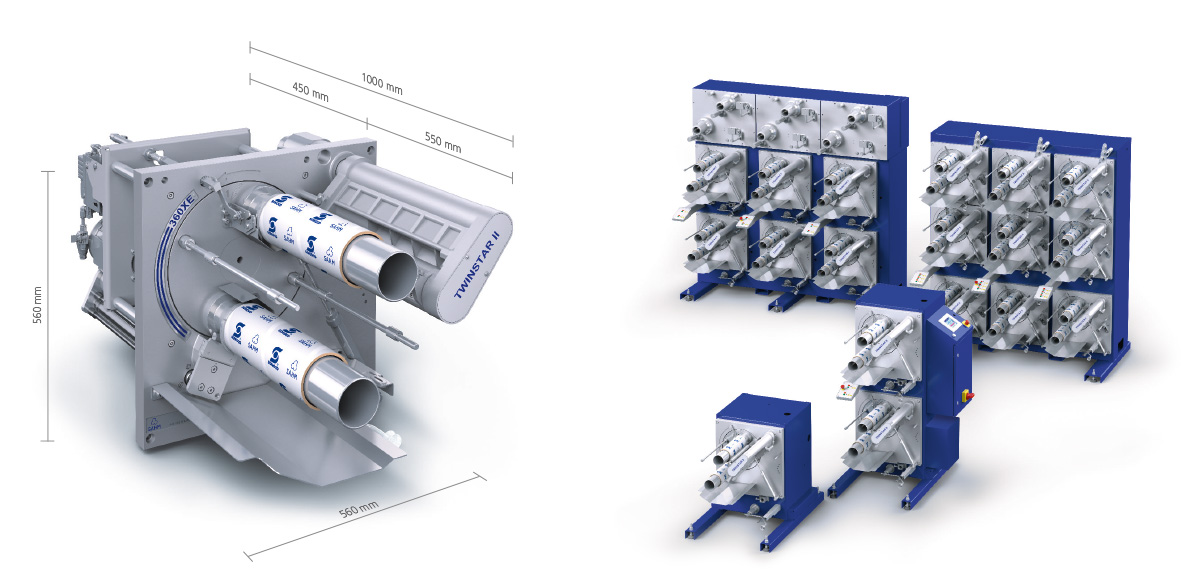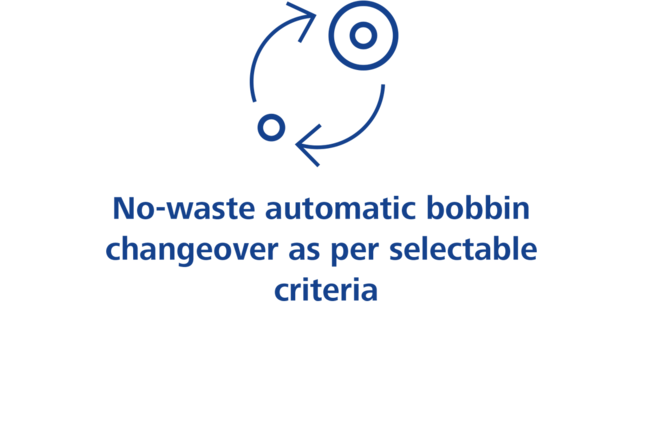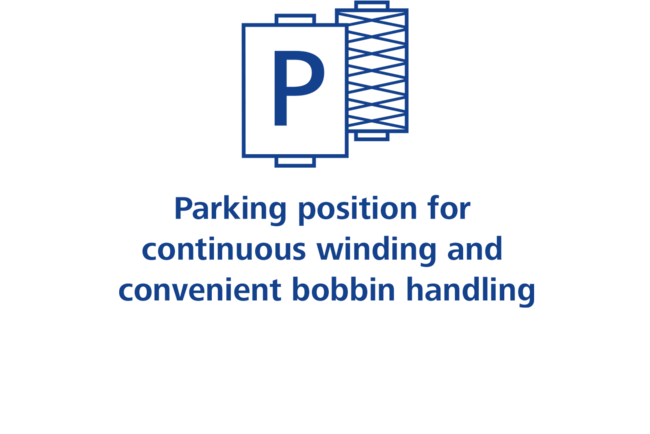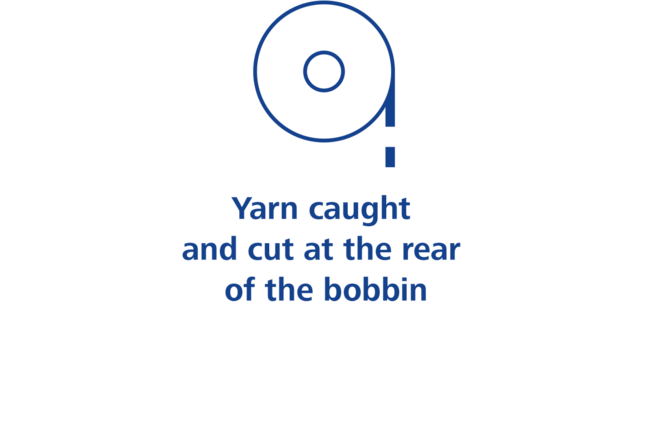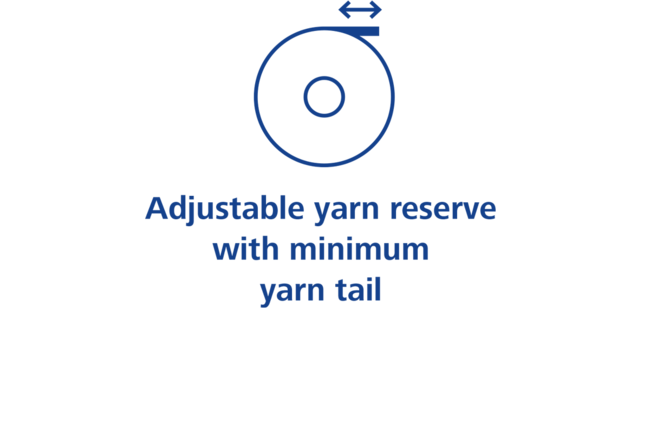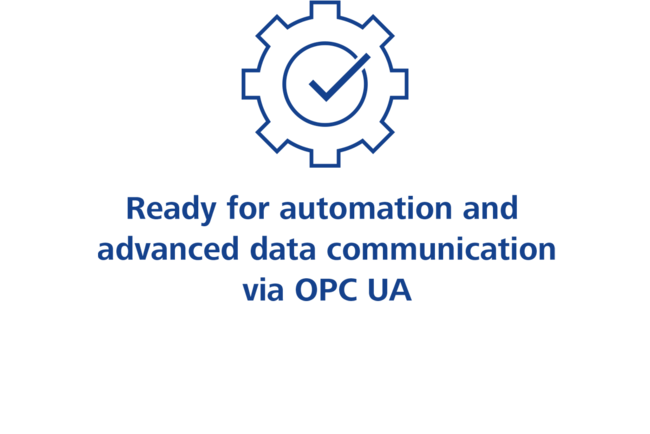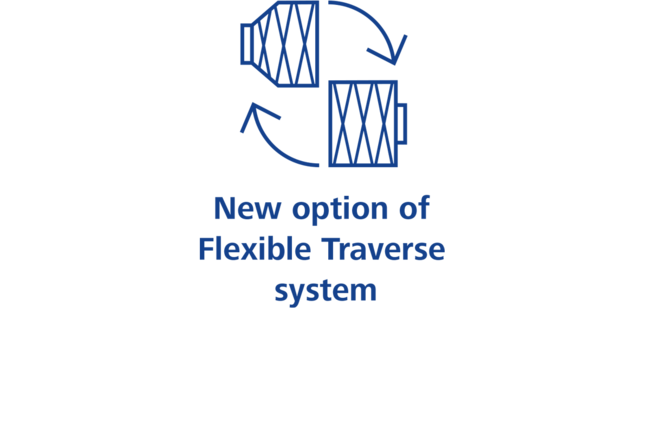 Design your own TWINSTAR II

For peak winding performance customized exactly to your needs
Bobbin push-off device with parking position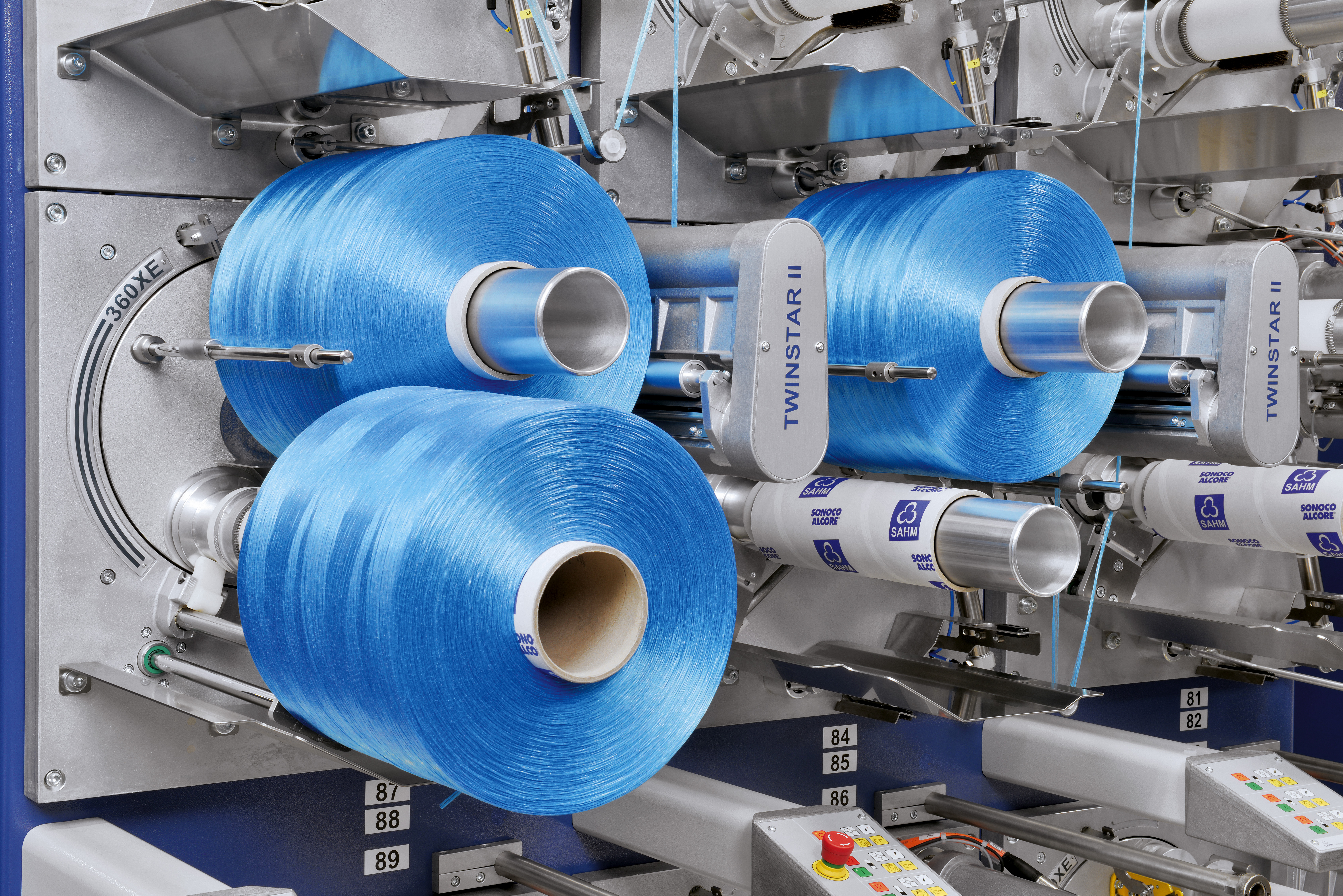 Bobbin push-off device with parking position
During automatic bobbin changeover, the finished bobbin is pushed into a parking position while the next bobbin is already being wound. Perfect for automated doffing and higher flexibility for manual doffing.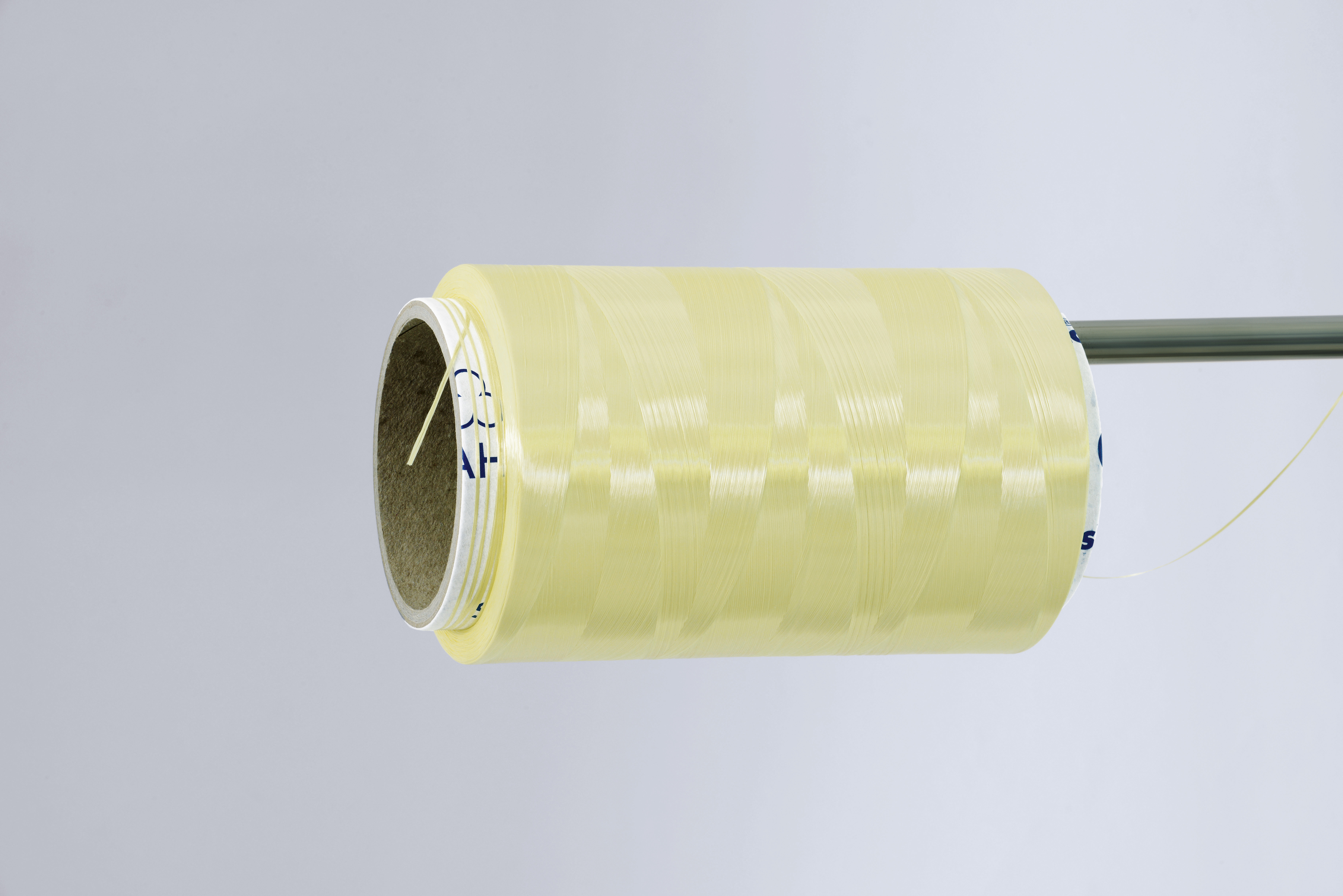 Adjustable yarn reserve with minimum yarn tail after automatic changeover.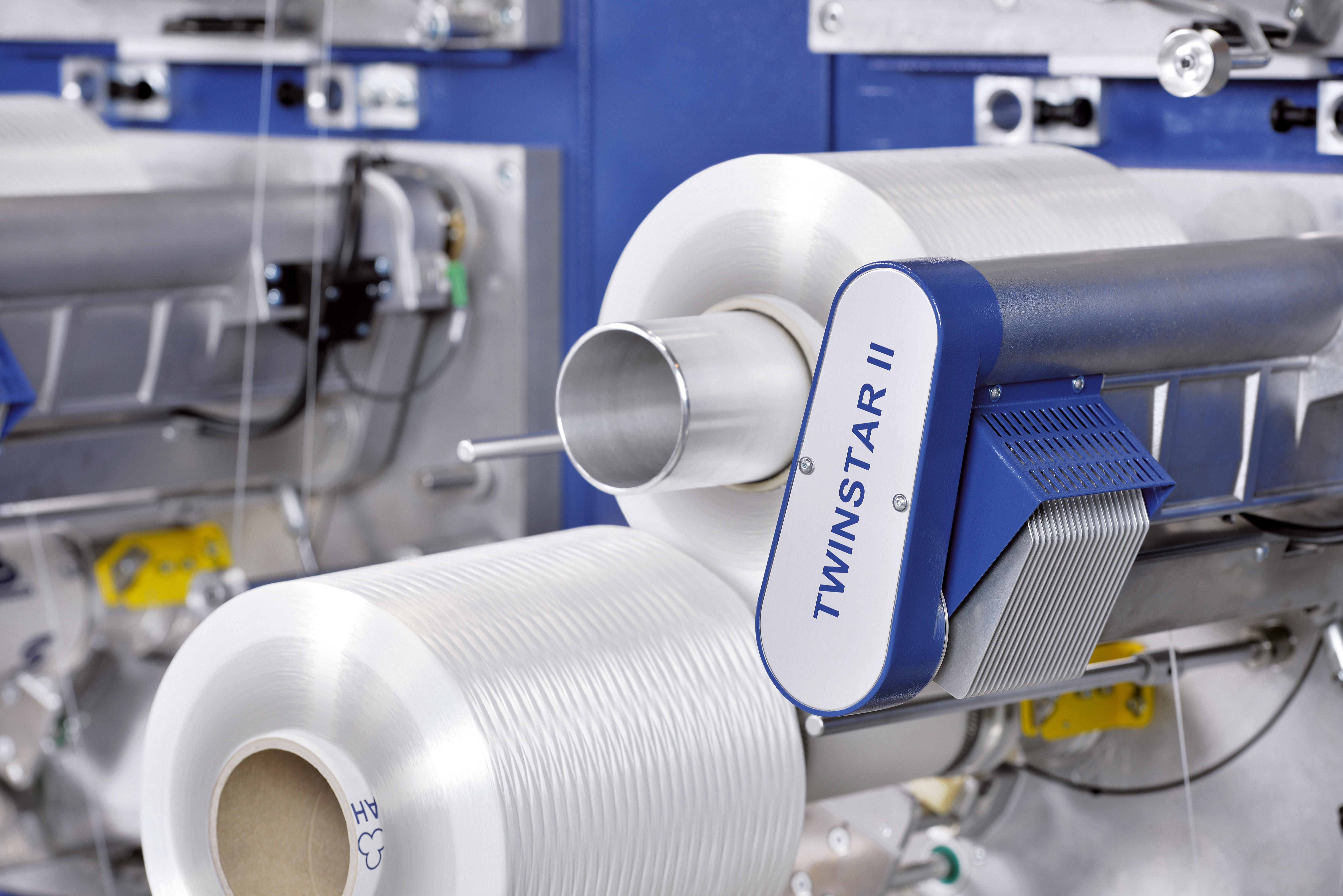 You get full adjustability for: traverse width, bobbin shape, bobbin positioning and yarn reserve choice.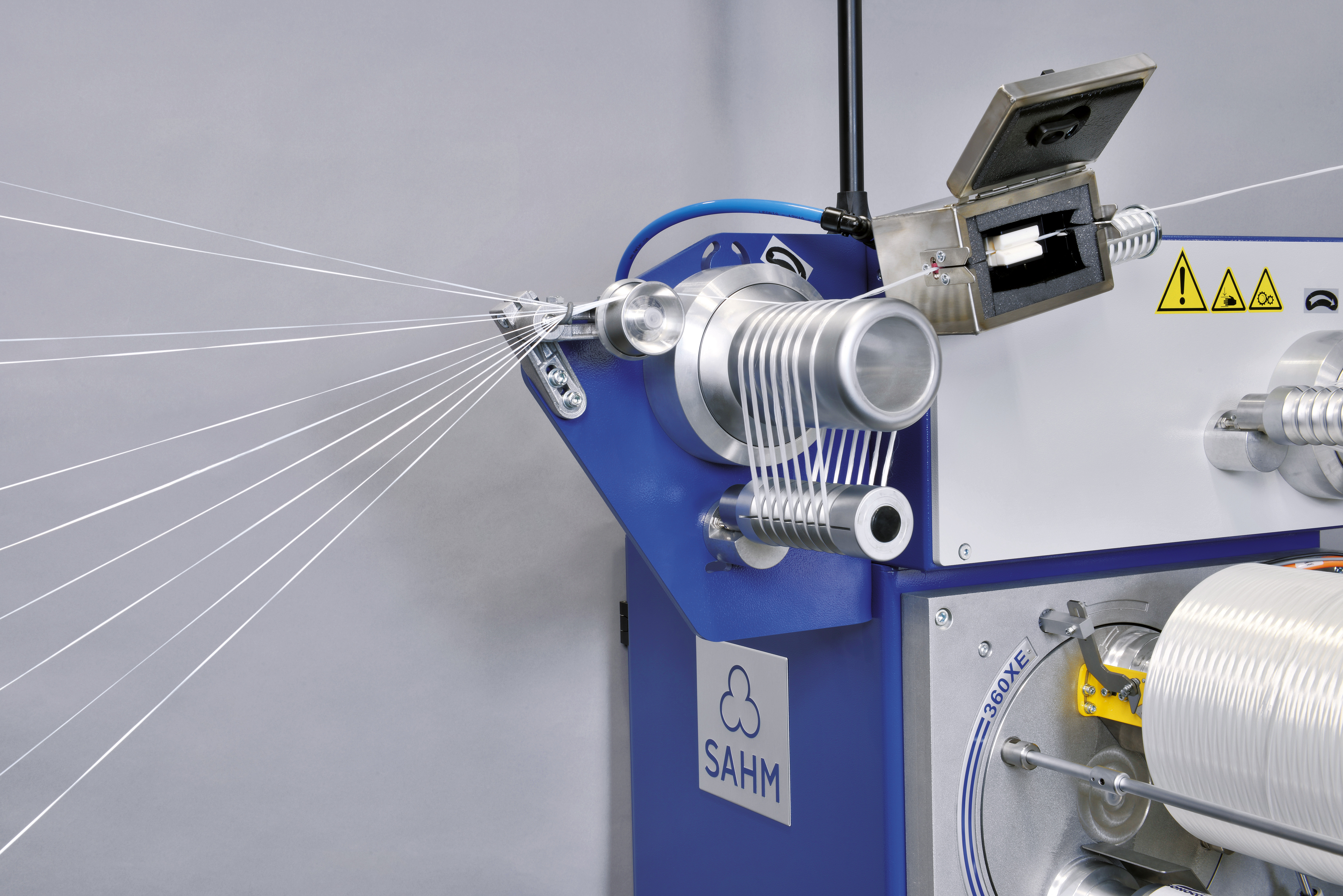 Godet per winding head pulling the yarn from the preprocess.
TWINSTAR II series provides a winding head assembly for q-wind direction as a standard while a mirror-inverted assembly for p-wind direction is available as an option.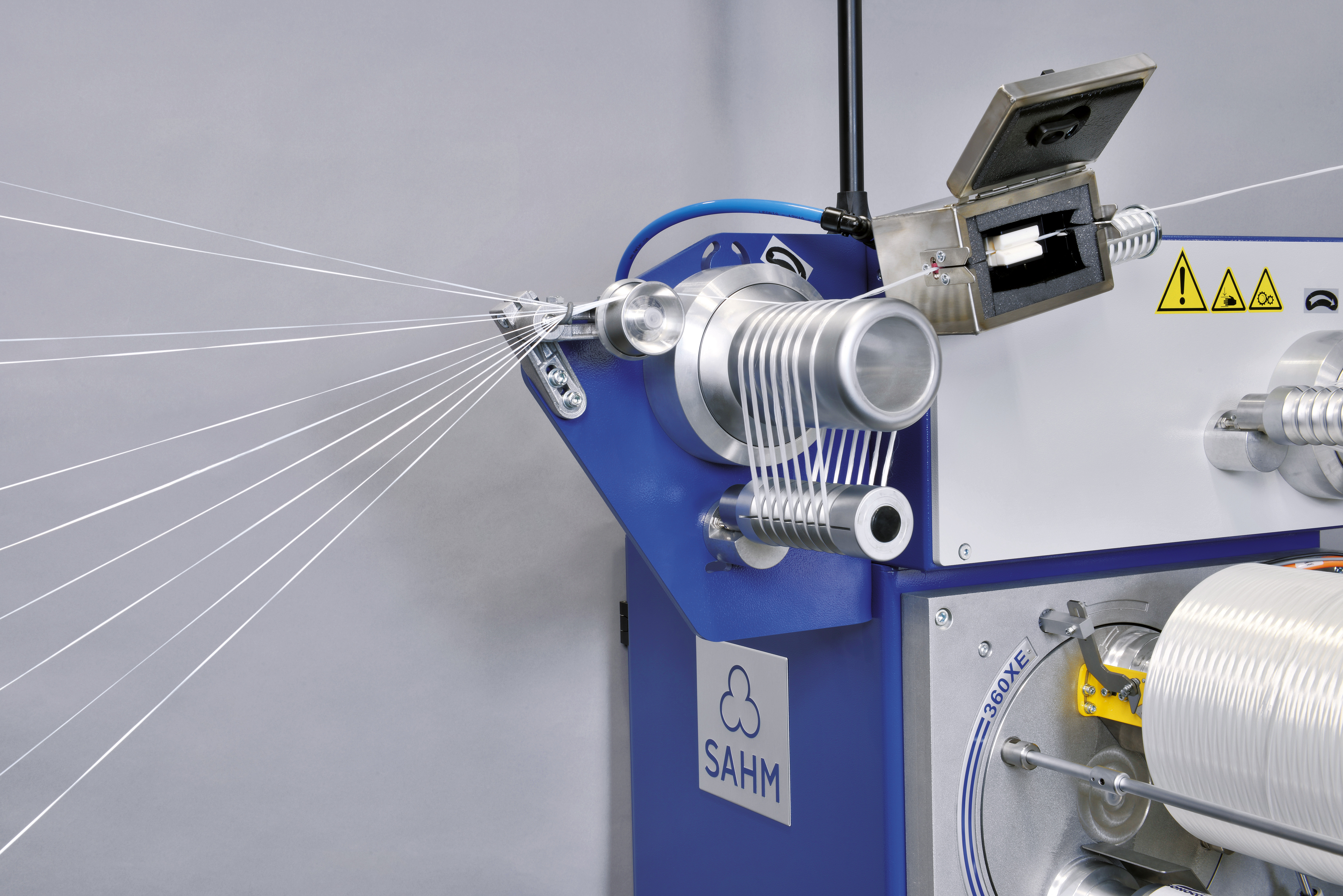 Air entanglement of single or assembled multifilament yarns while the yarn length of several assembled ends is kept equal (low catenary effect) and the cumulative strength of the yarn is maintained.
Monitoring of yarn thickness to check for broken filaments and problems with material quality.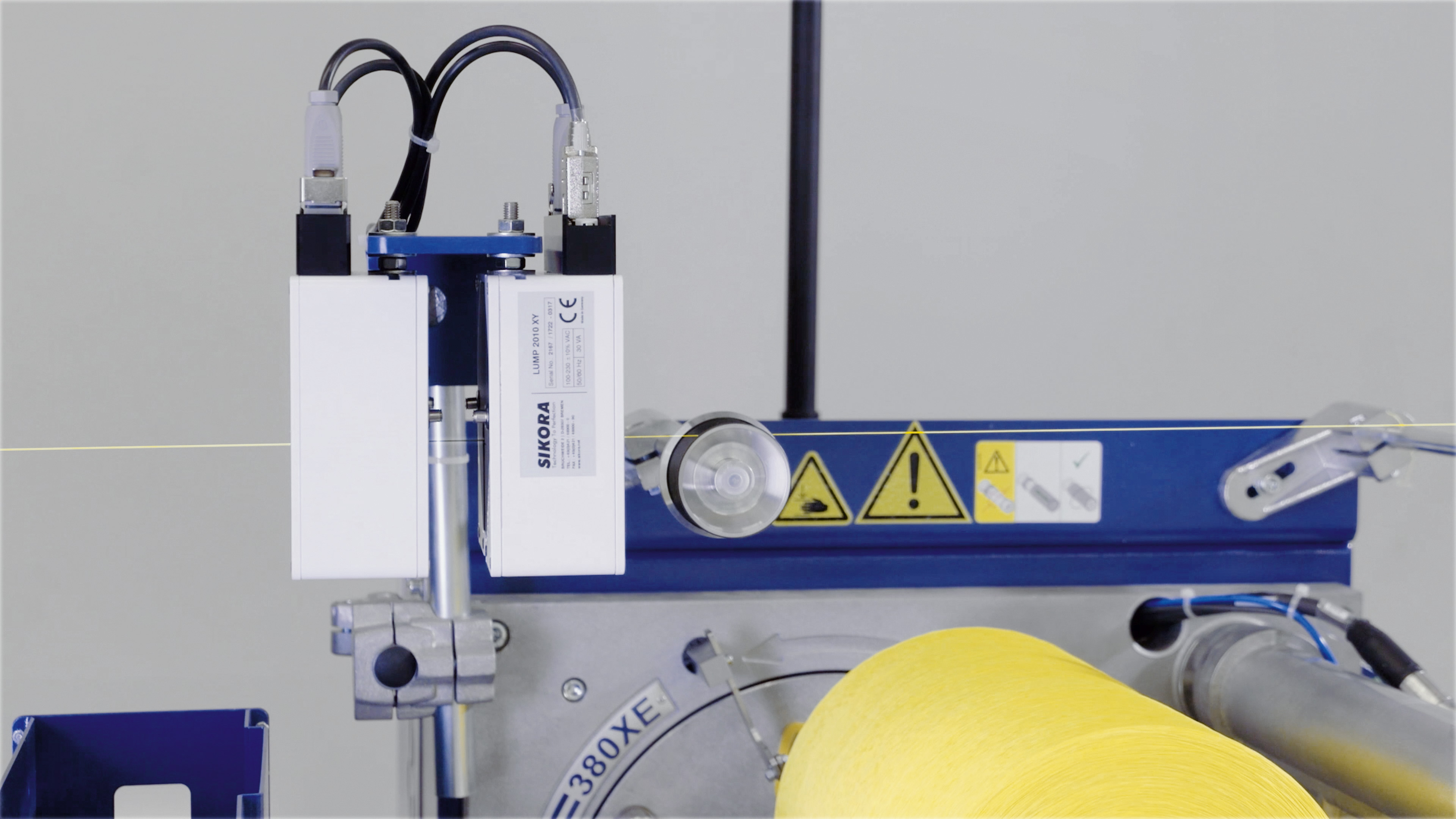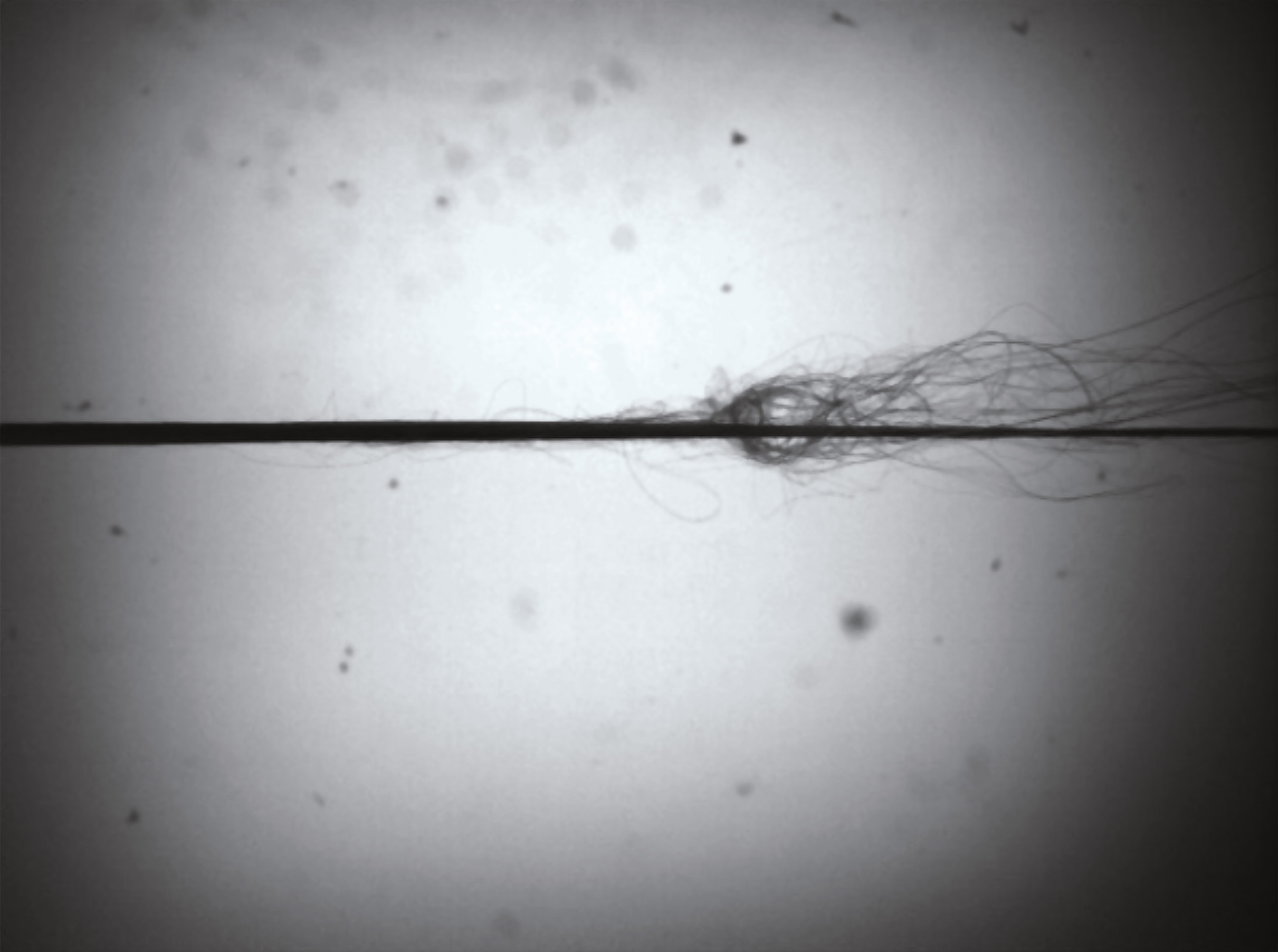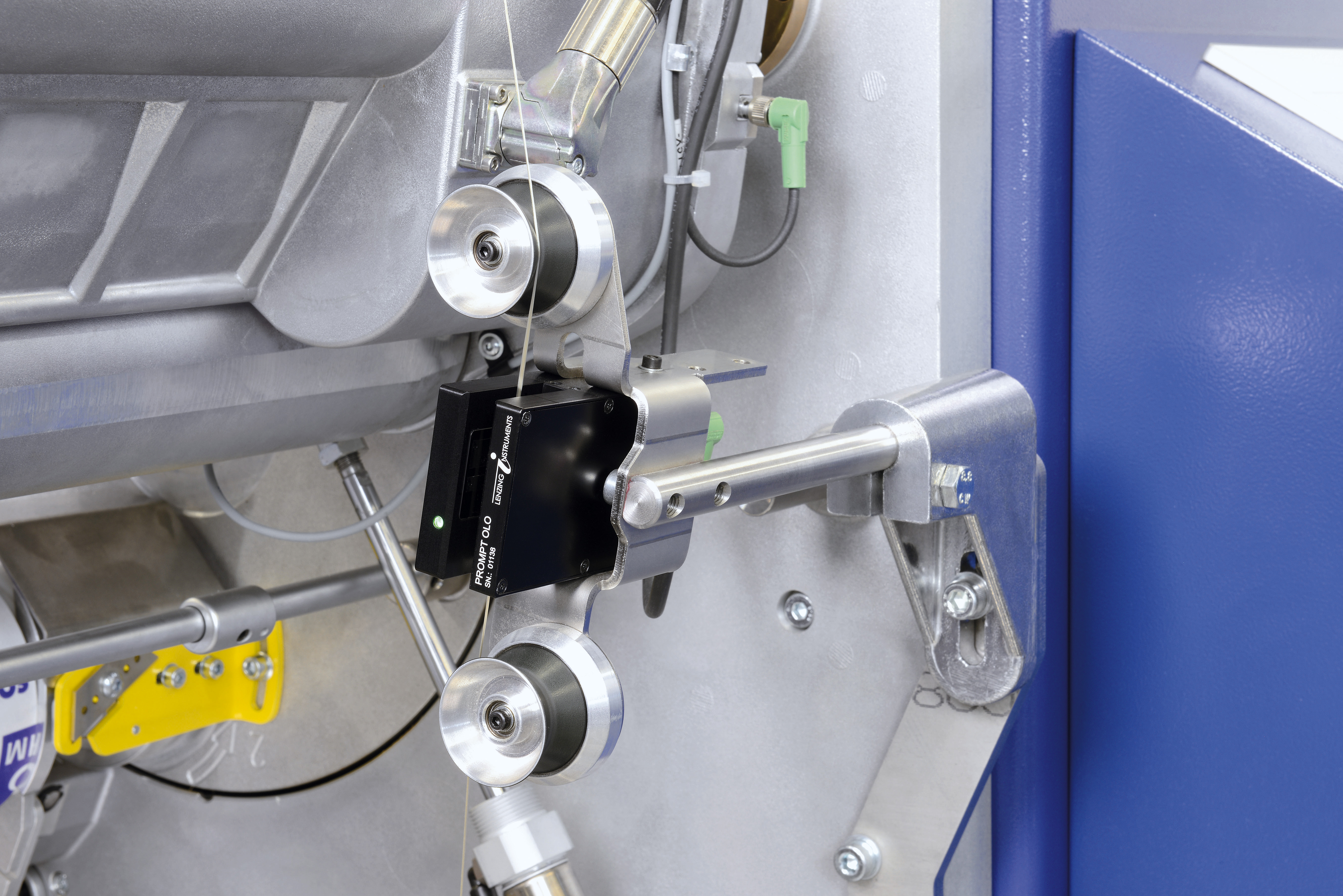 Customized yarn guide assemblies
With/without knot deflector and/or melt catcher.
Diameter monitoring/control
Online yarn diameter monitoring, with optional closed- loop system for control of the diameter regulated by the winding speed. Separation of the production whenever material leaves the tolerance range.
Double scroll cam for two different traverse lengths.
Automatically controlled pneumatic cutting device per winding position provides a clear shear cut of yarns during start-up and refeeding processes.
Automatic yarn suction device per winding position for higher operator convenience during start-up and refeeding processes.
Winding head change connector
Easy maintenance unit with and without easy change connector (ECC), helps to quickly disconnect and remove the winding head for maintenance purposes.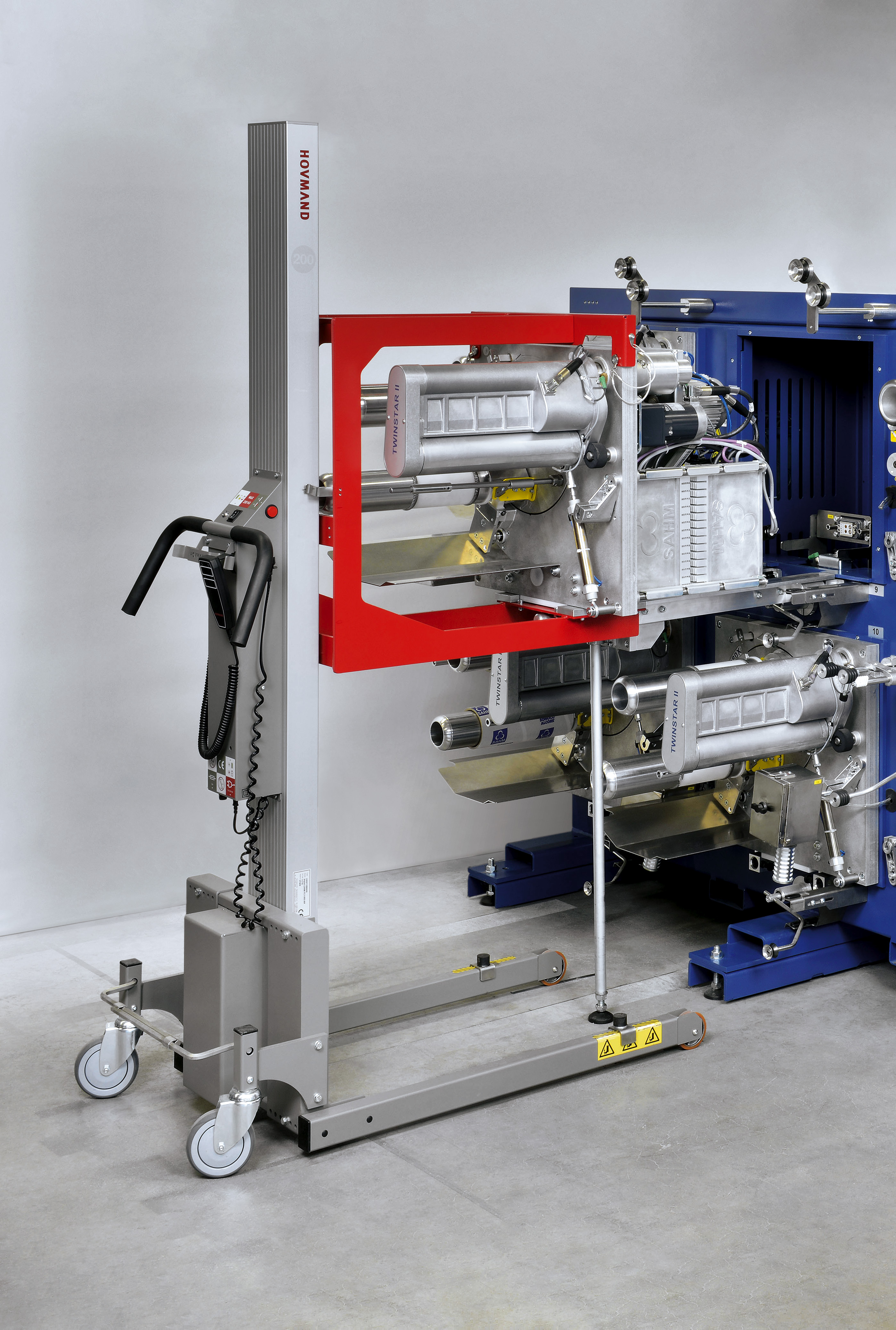 Exclusive SAHM maintenance feature for secure, quick removal of the complete winding head.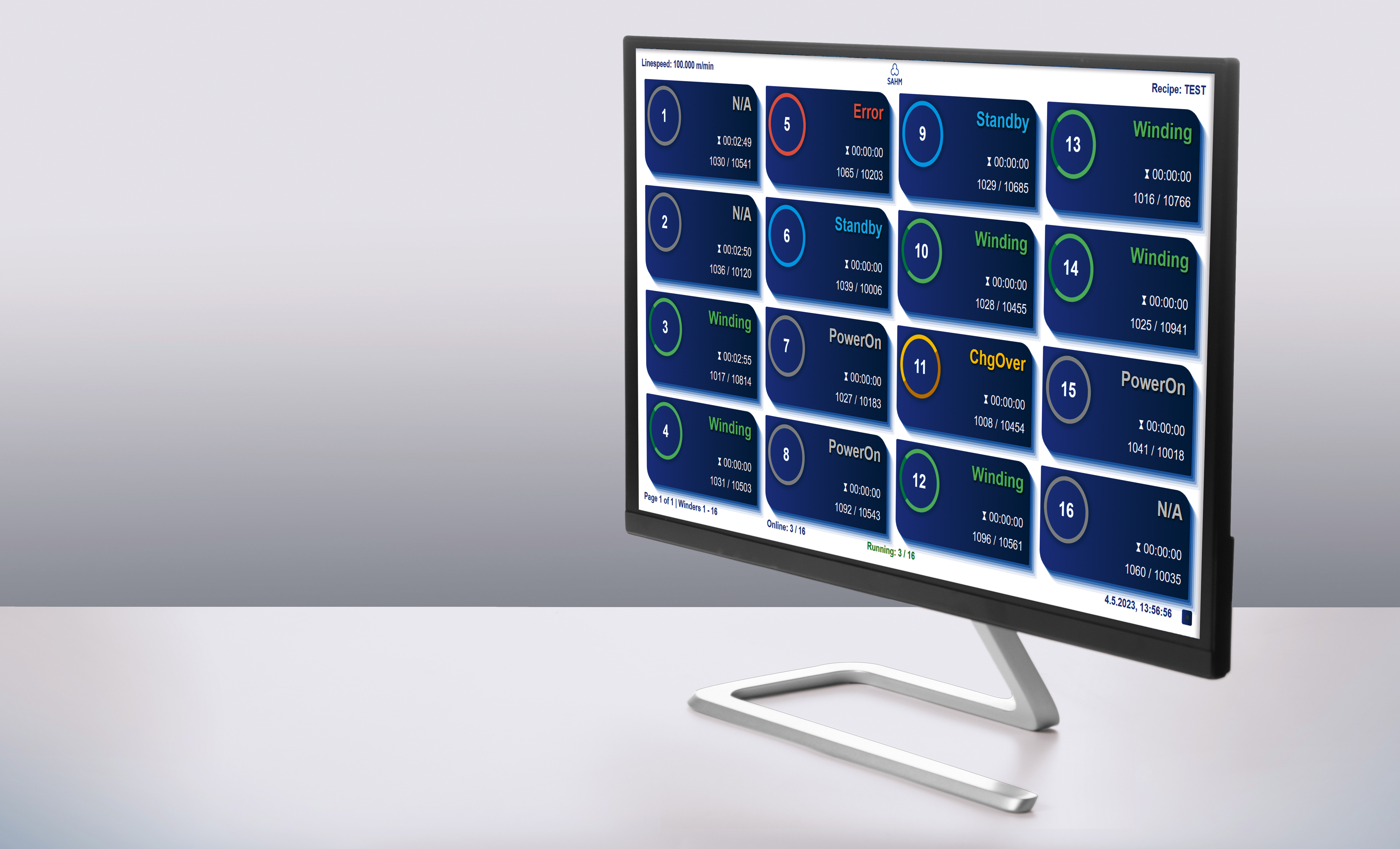 Monitoring application to track the production of each winder.
Chill Unit | Easy Storage Doffer (ESD)
Chill Unit | Easy Storage Doffer (ESD)
Yarn cooling and relaxing chamber helps avoid residual shrinkage and preserve material properties.
Easy Storage Doffer enables automatic bobbin and tube changes and intermediate storage of finished bobbins.
The TWINSTAR II can be adapted to different handling systems. From Easy Storage Doffers for individual winding stations to fully automated robotic solutions for large and complex production lines.
Central process control unit (HMI touch screen) for input, display and storage of process and machine parameters.
Interface to DCS (Distributed Control System) or OPC UA data exchange system.
Remote access and support for diagnosis and guidance during troubleshooting.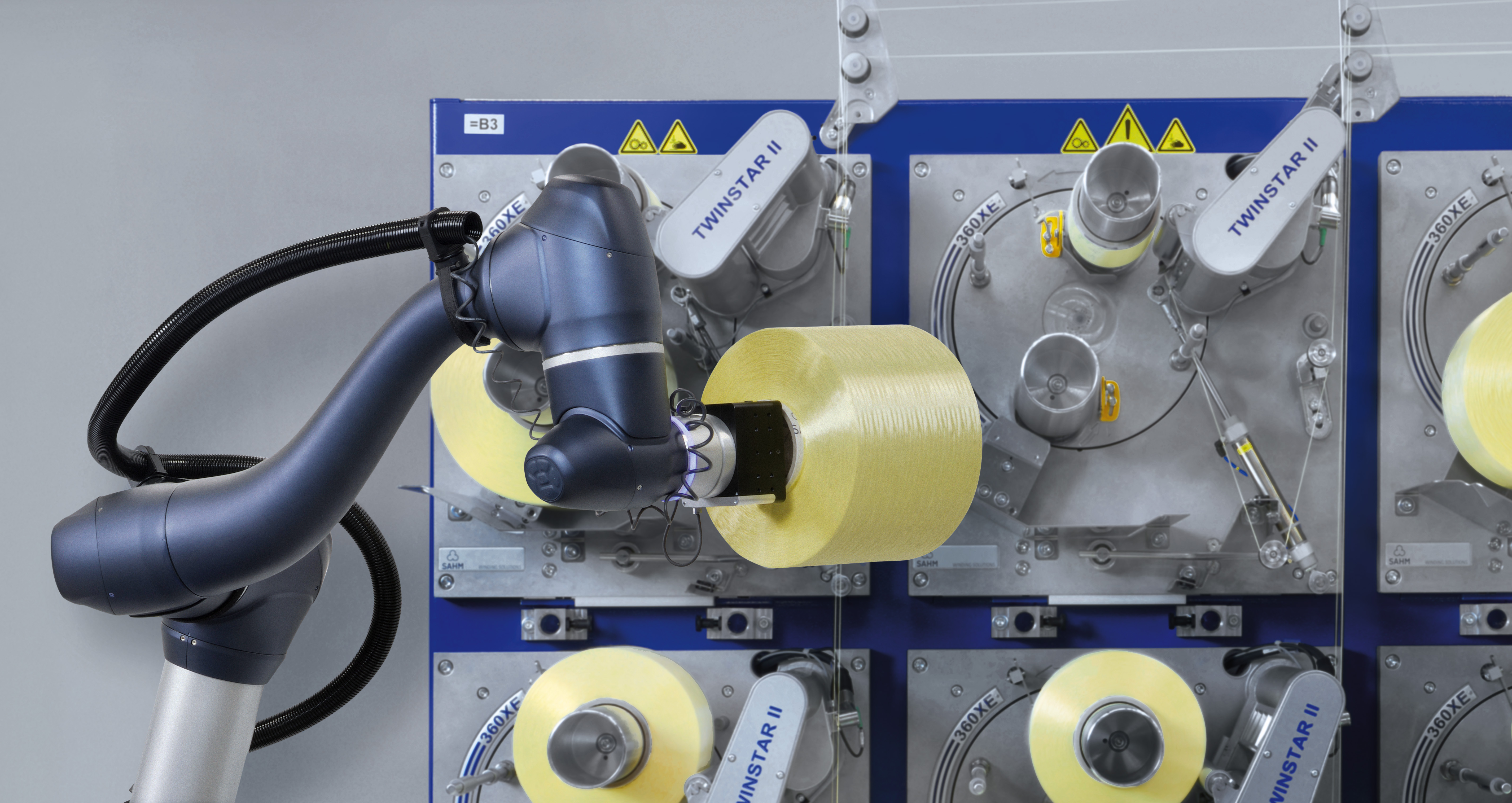 SAHM offers scalable automation solutions for TWINSTAR II winder lines ranging from an Easy Storage Doffer for single winding positions to AGV fleet integration with robotic options and temporary bobbin storage for lines with several winding positions.
SAHM provides comprehensive winder and automation solutions for one-stop support. You have the convenience of a single design, engineering and service partner.
"You provide the task - we provide the solution"
"You provide the task - we provide the solution"
Whether a single head in a spinning mill or a complete production line with hundreds of winding heads – the TWINSTAR II fits almost everywhere.

In addition to the listed standard parameters and options for the SAHM TWINSTAR II family, manyother customer-specific features are available.

Please contact us with your requirements so that we can offer you the most suitable TWINSTAR II model to fit your individual needs.
Hotline +49 5651 804-0
info@sahmwinder.com