CARBON FIBERS/COMPOSITES
Made with SAHM Winding Technology.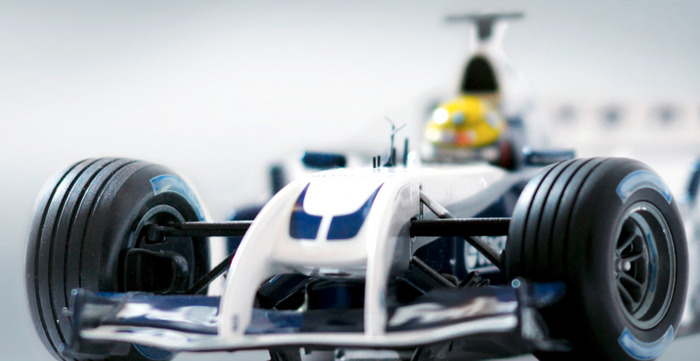 Carbon Fiber applications
Solutions for Carbon Fiber
Auto racing can no longer do without the miracle material, carbon: The monocoque alone of a Formula 1 racing car is made from approximately 1500 carbon fiber sheets. Carbon is - stronger than steel, but about five times lighter: That makes for speed and saves fuel. But carbon has also found its way into many other applications we encounter daily: Airplane components, walking sticks, fishing rods, bicycles and many other items are made from this material.
Usually between 1,000 and 20,000 fibers are processed to form the yarn. The statement "Made with SAHM Winding Technology" comes with our promise that your carbon fibers will be wound with the highest possible precision for a positive impact on the quality of the final material.
SAHM T1 RackWinder
One-Ton System Winder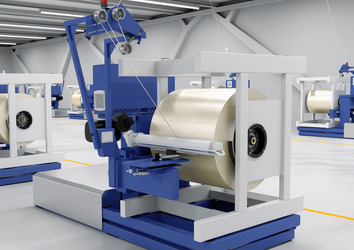 SAHM T1 RackWinder
One-Ton System Winder
Drive
Frequency inverter-controlled
*others on request.
Combination of all maximum values is not possible
More
SAHM T1 RackWinder
Applications

Wet spinning and air-gap spinning
PAN Precursor yarns

Advantages

Fast changeovers
Easy shipping of T1 MultiRacks
Quality Control Management with NFC tags
Flexible winding concept

Technical data

Drive

Frequency inverter-controlled

Titer

12 to 60 K (others on request)

Winding speed

Up to 150 m/min for wet spinning, up to 600 m/min for air-gap spinning (others on request), 0 to 20 m/min for unwinding

Package weight

Max. 1.2 ton (depends on density)

Rack dimensions

H x L x W: 1,700 mm x 1,700 mm x 1,150 mm

*others on request.
Combination of all maximum values is not possible

Features

Electronically controlled winding ratio
Central process control unit for input, display and storage of process and machine parameters
A/C motor-driven and tension-controlled winding and unwinding on creel side
Easy thread up function with catch and cut function
Pneumatic doffing system for T1 MultiRack during changeover

Options

Special traverse system for two selectable traverse widths for rack winding and for tube winding (between 900 mm and 750 mm)
Automatic robot system for handling racks on winding, storage and on creel side
Wet spinning and air-gap spinning
PAN Precursor yarns
SAHM 880XE
Precision Cross Winder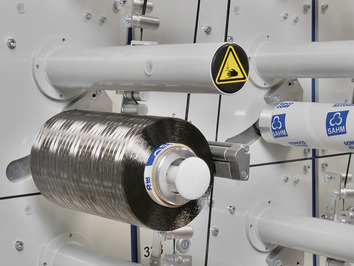 SAHM 880XE
Precision Cross Winder
*others on request.
Combination of all maximum values is not possible
More
SAHM 880XE
Applications

Carbon fibers
Specific towpregs

Advantages

Excellent package quality
Quick and efficient product changes
Electronic input of all winding parameters
Compact and modular design
Reproducible yarn package formation

Technical data

Yarn tension

Electronically adjustable

*others on request.
Combination of all maximum values is not possible

Features

Electronically controlled and infinitely variable winding ratio
Central Process Control Unit (HMI 12" touch screen) for input, display and storage of process and machine parameters
Possible speed synchronization with the preceeding process
Doffing timer function
Advanced tension control with strain gauge system (yarn guide roller with implemented tension sensor)

Options

Pneumatic mandrel
Variable traverse lengths
HMI 15" touch screen with high capacity processor für SQL database
Label printing system
Carbon fibers
Specific towpregs
CarbonStar II - standard
Automatic Precision Cross Winder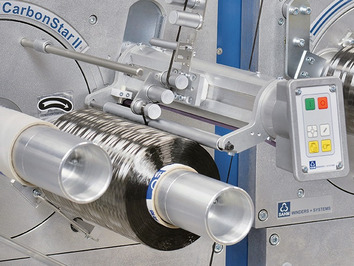 CarbonStar II - standard
Automatic Precision Cross Winder
*others on request.
Combination of all maximum values is not possible
More
CarbonStar II - standard
Applications

Carbon Fibers
Specific Towpregs

Advantages

Quick and efficient product changes
Zero production waste - no downtime during bobbin changeover
Metered yarn length
Bobbin changeover reliability of 99.8 %
Highest operating safety - yarn is caught and cut at rear of bobbin
Minimum yarn tail after automatic changeover

Technical data

Yarn tension

Electronically adjustable

Parking position with push off device

Not included (option available)

*others on request.
Combination of all maximum values is not possible

Features

Automatic bobbin changeover on reaching one of the following criteria: yarn length, winding time, package weight, package diameter or external signal
Quick and efficient product changes by electronic data input of all winding parameters
Electronically controlled winding ratio
Central process control unit (HMI touch screen) for input, display and storage of process and machine parameters
Tube inside diameter (76.2 mm) tolerance + 0.5 mm possible

Options

Variable traverse lengths
HMI touch screen with high capacity processor for SQL database
Interface to DCS
Adaptable to an automatic bobbin handling system
Frame unit with 6 heads
Label printing system
Carbon Fibers
Specific Towpregs
CarbonStar II - big
Automatic Precision Cross Winder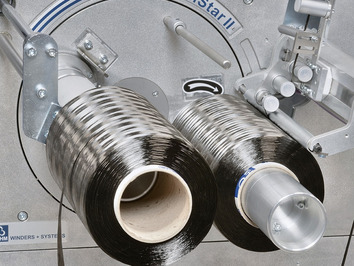 CarbonStar II - big
Automatic Precision Cross Winder
*others on request.
Combination of all maximum values is not possible
More
CarbonStar II - big
Applications

Carbon Fibers
Specific Towpregs

Advantages

Quick and efficient product changes
Zero production waste - no downtime during bobbin changeover
Metered yarn length
Bobbin changeover reliability of 99.8 %
Highest operating safety - yarn is caught and cut at rear of bobbin
Minimum yarn tail after automatic changeover

Technical data

Yarn tension

Electronically adjustable

Parking position with push off device

*others on request.
Combination of all maximum values is not possible

Features

Automatic bobbin changeover on reaching one of the following criteria: yarn length, winding time, package weight, package diameter or external signal
Quick and efficient product changes by electronic data input of all winding parameters
Electronically controlled winding ratio
Central process control unit (HMI touch screen) for input, display and storage of process and machine parameters
Tube inside diameter (76.2 mm) tolerance + 0.5 mm possible

Options

Variable traverse lengths
HMI touch screen with high capacity processor for SQL database
Interface to DCS
Adaptable to an automatic bobbin handling system
Frame unit with 6 heads
Label printing system
Carbon Fibers
Specific Towpregs
CarbonStar 2-cop
Automatic Precision Cross Winder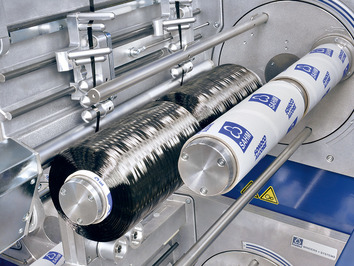 CarbonStar 2-cop
Automatic Precision Cross Winder
*others on request.
Combination of all maximum values is not possible
More
CarbonStar 2-cop
Applications

Carbon fibers
Specific towpregs

Advantages

Maximum efficiency by production of two bobbins (each up to 20 kg) on one winding head
Two exact length, high quality spools with our patented diameter control
Bobbin change-over reliability of 99.8 %
Highest operating safety due to automatic change-over
Energy savings from the latest drive technology
Minimum space requirement
Very low maintenance costs
Zero production waste - no downtime during bobbin changeover
Metered yarn length

Technical data

Yarn tension

Electronically adjustable

*others on request.
Combination of all maximum values is not possible

Features

Automatic bobbin changeover on reaching one of the following criteria: yarn length, winding time, package weight, package diameter or external signal
Quick and efficient product changes by electronic data input of all winding parameters
Electronically controlled winding ratio
Central process control unit (HMI 12" touch screen) for input, display and storage of process and machine parameters
Tube inside diameter (76.2 mm) tolerance + 0.5 mm possible

Options

HMI 15" touch screen with high capacity processor for SQL database
Interface to DCS
Frame unit with 9 heads
Label printing system
Carbon fibers
Specific towpregs
SAHM 810XE
Large Package Winder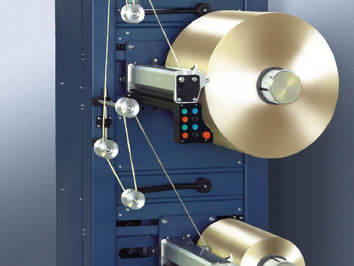 SAHM 810XE
Large Package Winder
Winding speed
50 to 150 m/min
70 to 400 m/min
*others on request.
Combination of all maximum values is not possible
More
SAHM 810XE
Applications

Advantages

Excellent package quality and reproducible yarn package formation
Compact and modular design
Alarm management (yarn break, yarn length, package diameter)
Electronic input of all winding parameters
Pneumatic push-off device

Technical data

Winding speed

50 to 150 m/min
70 to 400 m/min

Package diameter

Max. 600 mm


*others on request.
Combination of all maximum values is not possible
SAHM 830XE
Jumbo Winder
Winding speed
50 to 150 m/min
70 to 400 m/min
*others on request.
Combination of all maximum values is not possible
More
SAHM 830XE
Applications

Advantages

Excellent package quality and reproducible yarn package formation
Package weight up to 300 kg
Alarm management (yarn break, yarn length, package diameter)
Electronic input of all winding parameters
Electric push-off device

Technical data

Winding speed

50 to 150 m/min
70 to 400 m/min

*others on request.
Combination of all maximum values is not possible
SAHM 840XE
Jumbo Winder
*others on request.
Combination of all maximum values is not possible
More
SAHM 840XE
Applications

Advantages

Excellent package quality and reproducible yarn package formation
Package weight up to 500 kg
Alarm management (yarn break, yarn length, package diameter)
Electronic input of all winding parameters
Electric push-off device

Technical data

*others on request.
Combination of all maximum values is not possible
SAHM 464XE
Parallel Winder with integrated tension-controlled unrolling unit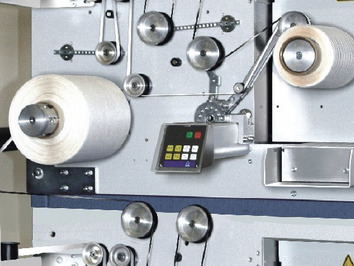 SAHM 464XE
Parallel Winder with integrated tension-controlled unrolling unit
*others on request.
Combination of all maximum values is not possible
More
SAHM 464XE
Applications

Advantages

Excellent package quality
Quick and efficient product changes
Highest flexibility and a wide range of applications
Direct tape placement onto the traversing spindle
Tension regulated precision placement of the release liner

Technical data

Bobbin types

Cyclindrical, biconical, pancake, flanged

*others on request.
Combination of all maximum values is not possible
SAHM 832XE
Rewinding System for Jumbo Spools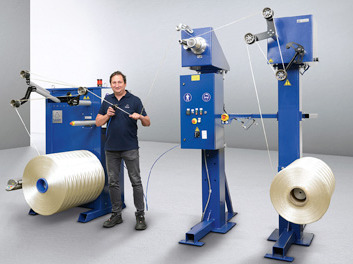 SAHM 832XE
Rewinding System for Jumbo Spools
*others on request.
Combination of all maximum values is not possible
More
SAHM 832XE
Applications

Advantages

The SAHM 832XE supports standardization of bobbins on the creel side through splicing of short bobbins into a single large standard size. This reduces waste and allows for longer periods of uninterrupted production for higher efficiency and throughput.

Technical data

Package weight

Max. 350 kg (depending on density)

*others on request.
Combination of all maximum values is not possible

Features

Electronically controlled and infinitely variable winding ratio
Central Process Control Unit for input, display and storage of process and machine parameters
Speed synchronization between unwinding and rewinding
Stop and start up function with variable package diameter before and after splicing (alternatively by yarn length or package weight)
A/C motor driven and tension-controlled unwinding
Unwinding speed adjustment via potentiometer
Freely programmable prewarning and target rewinding length
- Automatic speed reduction when prewarning length is reached
- Automatic stop when target length is reached
Godet roll for tension control between unwinding and rewinding
Pneumatic mandrels for unwinding and rewinding
Pneumatic doffer for rewinding position

Options

Hand-held suction device for doffing procedure
Hand-held splicing device for splicing of two bobbin ends
Special traverse system for two selectable traverse widths (either between 500 and 750 or 500 and 800 mm)
Spindles with ball bearings for easy doffing